SUNDAY, MONDAY, JULY 10-11
Going from the hustle and bustle of the tourist packed florence to the much quieter hill towns of tuscany was like jumping countries. The little bit of italian that we learned had to be relearned because there were subtle differences even in the dialect. Ancient and charming we would spend the next week going exploring each town from our home base villa just outside of petroio. The first day we bumped into San Quirico D'orcia where we bought some yummy things from a little market. Cheese, olives, some dried bread, and some wine, one bottle that actually made it all the way home with us and is sitting in my kitchen right now. Each hill town has a fortress wall around it and each town has its own church, tower, museum and town square.
Here is a view from the city of montepulciano where some of the worlds best wine comes from.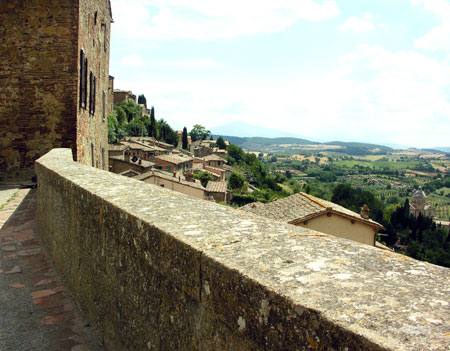 The ancient stone in these places gives you a real sense that you have gone back in time. The streets are brick and extremely narrow which is why some of these towns restrict their traffic to the locals, so you park outside the walls and walk in. Minutes after photographing this charming archway came a mini van zipping down the hill through this little arch and winding down the hairpin turns. The picture was kind of surreal as the compact car had a little old nun at the wheel, white habit flapping in the open window, rosary swinging wildly from the rear view mirror. After moving out of harms way I had to laugh at how obsurd that picture was. So obsurd I didn't think to snap the picture but just stood there with my mouth hanging open as this nun flew down the hill in her mini van!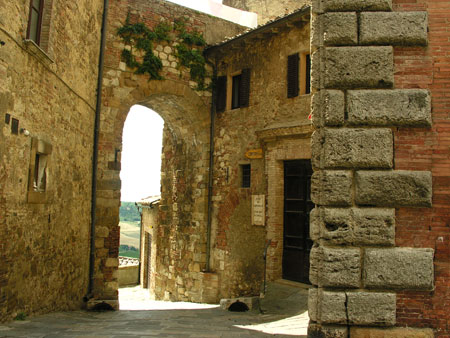 Snooping through this sleepy town we bumped into this little door that said "wine tasting". We had discovered Cantina del Redi an ancient wine cellar that descended into the hill over 500 meters. We followed our nose through these cave like corridors marvelling at the old stone and giant barrels of wine. It was a wierd feeling because no one was around and all there was to guide us were the lighted tunnels and an occasional arrow that pointed you toward the "wine tasting". We finally emerged into a little enoteca (wine tasting bar) with one person in attendance apparently cleaning up. I guess we missed the party as she just looked at us kind of funny as we exited out the door into the welcomed daylight.
vino nobile di montepulciano 2003.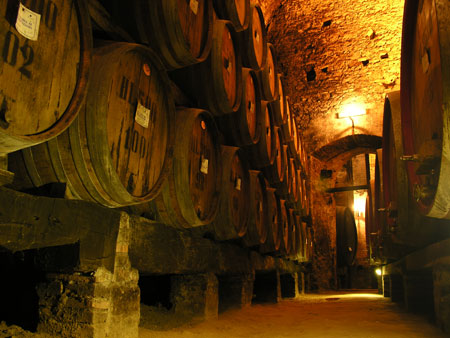 I became fascinated by the variety and age of door knockers.

Santa Maria Asunta
This 6th century town's cathedral housed a number of art gems like this reredos painted in 1401 by Taddeo di Bartolo.