JULY 20, EVENING
Going from Rome to Dublin is a bit of a mind blower. Catching a cab to Leonardo's airport, flying Aer lingus, and catching another cab to our hotel in the heart of dublin was the best kind of culture shock. I am convinced that cabbies are the world's ambassadors and every one we had was a delight. The one that took us into rome was like a tour guide, while the one that took us out of rome talked of everyday italian life. The driver that we were lucky enough to get to take us into dublin was cheerful and talkative and extremely proud of his heratige. The ride with him was like a crash course in irish history all given with a heavy gaelic accent. When he dropped us at our bed and breakfast right across from trinity college, I felt like I had been through some sort of portal that suddenly transitioned you from one culture to the next. Now the english-italian conversation with the italian cabbie only hours ago seemed like a distant memory.
DAY 27, THURSDAY JULY 21
Today we tour Trinity College and veiw the Book of Kells. We start out by going downstairs (4 flights) to the breakfast room in Trinity Lodge for a full irish breakfast (eggs potatos, bacon, sausage, toast, grilled tomato, black pudding, and more toast) which was a major swich from italian breakfasts (coffee and croissant). We ate up and ventured out to wander dublin streets.
Daniel at trinity.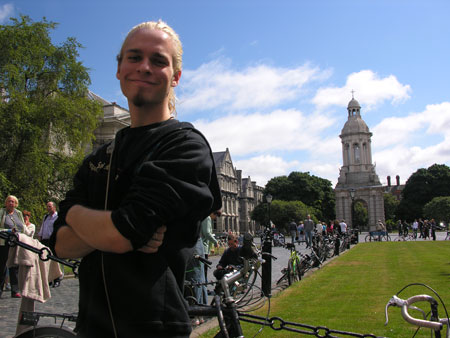 Our tour guide trinity was a fourth year student. After the tour Daniel was able to ask him some questions about student life, narrowing down his choice for college next year.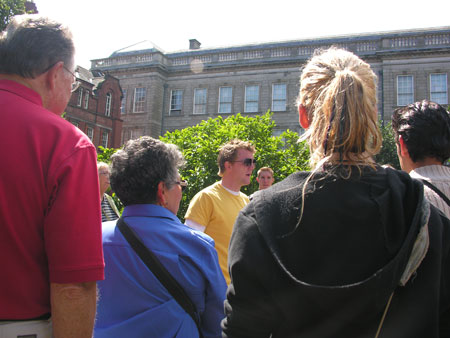 Another form of sacred art takes my breath away. Viewing the book of Kells was another one of those lifetime experiences.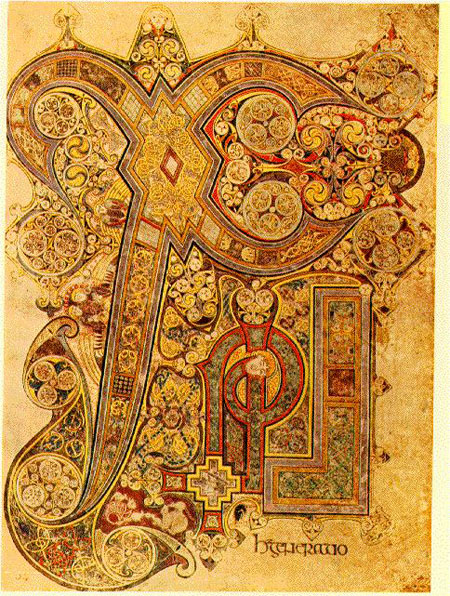 click here for book of kells info
Wandering down Grafton Street and Temple Bar.