DAY 3, MONDAY JUNE 27
On our way to the louvre we had to change metros and in the transfer hub where you change lines we heard this music coming out of the tunnel. After standing on our appropriate train platform I couldn't resist the urge to go chase down this music. Following the noise through the winding tunnels we came upon this band of ukrainian buskers. I grabbed our big video camera from Bryan and we filmed these guys for about 15 minutes which seemed to make them play all the more lively. The guy with the flute kept winking at the camera. I managed the nerve to give them one of the release forms that we had printed in french for them to read and sign. We bought one of their CDs.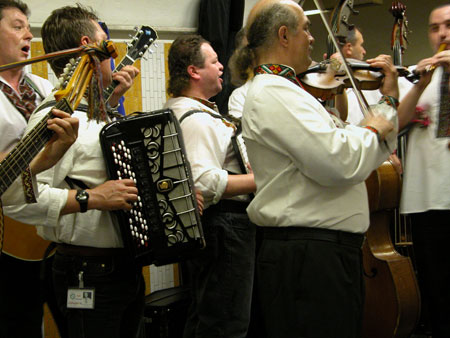 Click to see the buskers in action (3.9Meg)
Popping out of the metro suddenly face to face with musee du louvre was another one of those intense moments for me. It represented the culmination of countless dreams and efforts. I was steps away from being in the presence of some of the worlds greatest art. The running joke was how long it would take me to lose it once we were there. I knew I was in trouble when the tears started to well up before I got in the door.
Once inside it was hard to know which direction to go. Everyone tends to make a beeline for Mona and frankly I wasn't so interested in getting the obligatory picture in front of Davinci's icon. There was so much more to absorb. Starting slow with Eutruscan antiquities one of the first famous works we saw was the Winged Victory. At this point I was fine. I love sculpture but it doesn't move me on the level that painting does. I was still awestruck, but fully functional viewing the sculpture. At this point I have my camera in gear and and snapping like all the other tourists, but I spot one of the louvre employees to inquire about the use of tripods. I have a very high sense of adhearing to the rules and so after an exchange of broken english(her) and slaughtered french (me) I have the go ahead for tripod use, or so I thought. Most sites in Europe allow photos but some don't allow tripods. So giddy as can be I round the corner and come face to face with my first Botticelli and set up my tripod and start to shoot. Well three shots in two very serious looking louvre police descend on me with the very clear message that tripods are a no-no. They spoke no english at all and yet I tried to tell them that I had asked permission but not understanding a word they only viewed me as the worst sort of offender. I was crushed. Not because I couldn't use my tripod, but because they misunderstood my intensions. Apparently the woman who "gave permission" didn't have it to give. Well, lets just say that for this HSP (highly sensative person) the combination of jet-lag, years of dreams coming true in an instant, and getting my hand slapped by the louvre nazis was just too much for me. I burst into tears. Feeling like a total fool it took several minutes for me to get myself together but the stage was set. Going through the louvre was very intense. Work after work, artist after artist I stood in front of trying to absorb it all. Many tears (of joy) were shed and would be the pattern for me throughout the trip.
Here is Bryan at Winged Victory.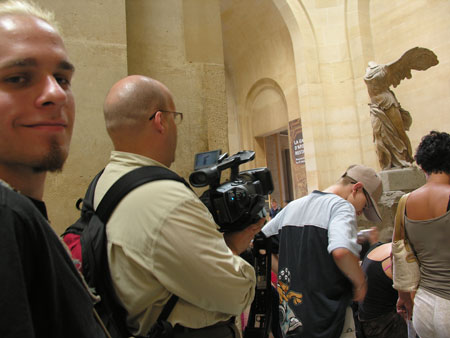 Botticelli, with tripod.