I approach my beloved friday "artist date" day with little left from a week that has drained me. It has been a hard business week with crisis that make things come to a screeching halt. It is weird though because it is my husband being the "tech guy" who has taken the brunt of the crisis working late into the night many nights to fix things. I unwisely, and I would like to say unvoluntarily have all the strength drained out of me by worry. That's all. So I stress over things without accomplishing much. Maybe it is the constant thinking and rethinking of a problem and all the possible solutions that has me worn out.
Now I just want to sleep.
It was also a more extraverted week for me. I may let a whole week go by without seeing anybody but my family (true bliss) but this week I saw three friends (face to face), conversed with another on the phone, and to top it all off we had a party for Daniel last Saturday. Yes, a house full of teenagers. My little family also went out last night to see a concert of James Dashow this amazing electronic composer. Amazing, but not entertaining or restful. Intellectually stimulating, and sensory taxing. So I am at my limit today and yet I have promised to take Daniel shopping. I wouldn't even think of plunging myself into the most sensory overloaded place in the universe (the mall) except for the fact that he has the day off and maybe a friday will be less busy at the mall then a saturday. And I don't want to waste one of Bryan's days with the three of us at the mall.
I know I am ranting now, but somehow I have to gear up so that we can have a positive experience. I know that these have always been great times in the past, good bonding discussions, etc. But, having long since shunned the fashion selection dance and taken the path of least resistence I have concluded at this point in my life that jeans and a t shirt are the best clothes ever. This makes it challenging to shop with a teenager who is fashion sensitive. So much so he doesn't just want to shop and pick something trendy (which would be easy), but wants to design and make his own. Of course when he gets these ideas it always means some creative guidence and effort from me. Most of the time I am happy to oblige, but not today. I can't really blame him though, I instilled the pattern in him. Like the time we made a huge paper mache model of a mountain road complete with volcano, river and bridge for his toy dinosaurs. Or the claymation movie we did for a project in second grade. Teaching him how to sew. I could go on and on. Creativity is normally held in the highest regard in this house so typically the sky is the limit. Designing and making clothes fits right into that whole creative philosophy. But today I compromise it by replacing it with shopping. Ok, I know we can't make shoes, and he needs shoes.
Last night, over dinner, I offered to give Daniel "an obscene amount of money" and drop him off at Old Navy. We all had a good laugh with Daniel proclaiming that now he knows how to get money from mom.
All he has to do is say, "Mom, I have and idea".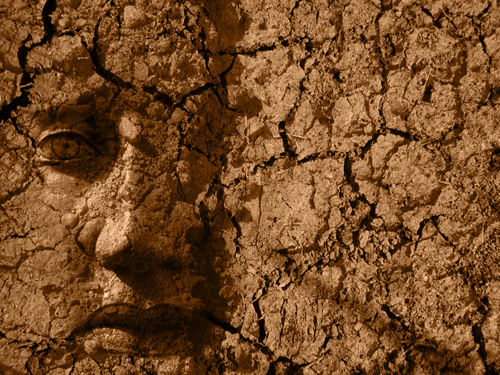 this is how I feel this morning.